It has long been a popular technique for project planning. But it lacks something to be desired when it comes to visualizing a project timeline. 4D model is the solution to it. 4D model is a 3D CAD model attached to the fourth dimension of time via a schedule. Though the concept of 4D scheduling has been around over 20 years, it has not been popular due to some technical challenges associated with it. The continuous advancement in technology and the emergence of Building Information Modeling (BIM) have removed all challenges associated with 4D scheduling. With the increasing success of BIM in the realm of designs, the adoption of 4D modeling is becoming the norm today.
experience team of 3D models, checkers have created models for residential towers, mixed-use projects, commercial buildings, shopping centers, hospitals, airports, hotel complexes, transport infrastructure, water and waste water treatment plants and distribution systems. We have worked with leading companies in US, Canada, UK, Australia and India. The process of 3D architectural modeling offers various benefits including time savings in the design phase. Creation of architectural models allows in design time, at the same time retaining fine details of the final architecture plan. Architectural modeling enables architects to visualize the building in physical space and predict clashes. The clash detection and resolution activity is carried out again during construction stage so as to finalize the model and producing coordinated MEPFF drawings.Our team has expertise in using Revit Architecture, ArchiCAD, Tekla Structure, Google Sketchup and we chose the BIM tool based on type of job and most supporting BIM software for specific jobs. Also delivers Revit 3D Models from 3D laser scan data in the form of 'point cloud' data
Initial Schedule Linking
In 4D Scheduling, we link every object in a Building Information Model (BIM) with its corresponding schedule activity to create an accurate animation of the construction process. Due to the length and the extensive nature of the construction process this vastly enhances the planning and scheduling process. With 4D Scheduling, a project manager, owner and contractor are able to see side-by-side comparisons between the planned versus the actual work that has been completed on the project. This provides a graphical representation of the baseline and the actual work, helping to quickly identify any issues that may hinder the completion of the project.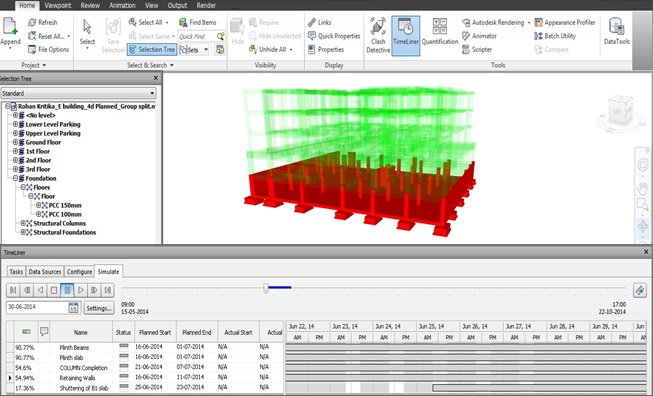 Benefits: optimize / Compress schedules – without increasing risk, Deliver clear, accurate, and feasible schedules, Easily manage task buffers, Visually identify conflicts and forecast project progress, Project monitoring and control, Effectively communicate the schedules of complex projects